Regular price
Sale price
$9.00 USD
Unit price
per
Sale
Sold out
Are you bothered by leaky pipes and ancient plumbing?  Do you worry about woodworm and rising damp?  Is your electric wiring as old as the hills?  Well now you can forget all your troubles by calling in The Red Nose Tradesmen – namely Twiddle and Fixit, accompanied by Young Alf, the apprentice.
There is no guarantee that these comical characters will solve your household problems, but they will certainly keep you happily entertained and 'in stitches' for hours on end.

This is part four in The Red Nose Gang series and like the other gang members the clowns are free-standing.  Twiddle and Fixit measure 48cm [19in] in height, while Young Alf is a smaller character, measuring 39cm [15½in] in height.


The first Red Nose Gang booklet was published in 1992, featuring five clowns, one of which was the painter and decorator Sidney Slapstick.  Jean had a lot of fun designing all the clowns, especially Sidney and she decided to create three more tradesmen with lots of accessories.  As you can see, she went to town with their comical equipment, some of which turned out to be characters in their own right – with red noses!

We are always amazed at Jean's working methods, especially when she conjures up seemingly un-knittable things, with instructions which are so easy to follow that even beginner knitters can join in.  Yet, she doesn't begin with anything more than an idea, balls of yarn and a pair of knitting needles.  No computer involvement, no outside instruction writers or knitters – Jean does the lot from start to finish.


Her enthusiasm shines through every knitted stitch when she creates humorous things like Rocky the red nose radio, Buzz the electric power drill and a cheeseburger (and chips)!
As for the tradesmen's workshop, Jean made everything from paper, cardboard and paint.  Even the copper piping pieces and wood 

shavings are paper.  Having made the set, Jean posed and photographed the characters as examples for our professional photographer to follow.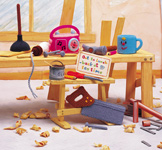 Now here's a marvellous suggestion from Jean.  Regarding the men folk who cannot resist a bit of DIY, they already have a set of tools and gadgets to work with.  But what about knitted versions?  Just imagine the fun you knitters can have making woolly reproductions of a claw hammer, dripping kitchen tap, and a tenon saw.  They all make hilarious gifts for birthdays, Christmas or just for amusement, not forgetting Alf's cheeseburger and chips for the lunch break. Here is the back page of Tradesmen Clowns. Jean decided not to include any of the clowns, just a note saying –
Out to lunch – back at tea time.  Typical!
Share
View full details
Delivery

We offer FREE delivery for orders of £80 or more. Click the link below to see our standard delivery rates.

Delivery Rates

Click & Collect

Live locally? Pop into our Bushey store to collect your online order for FREE. Simply select 'Click & Collect' at checkout.

Find Us

Returns

Mavis operates a 30-day return policy, starting the day you receive your item. See below for more details.

Refund policy